Knucklehorn (funk/jam) • Friday • 1.14.22 @ 8 pm
January 14, 2022 08:00 PM until January 15, 2022 12:00 AM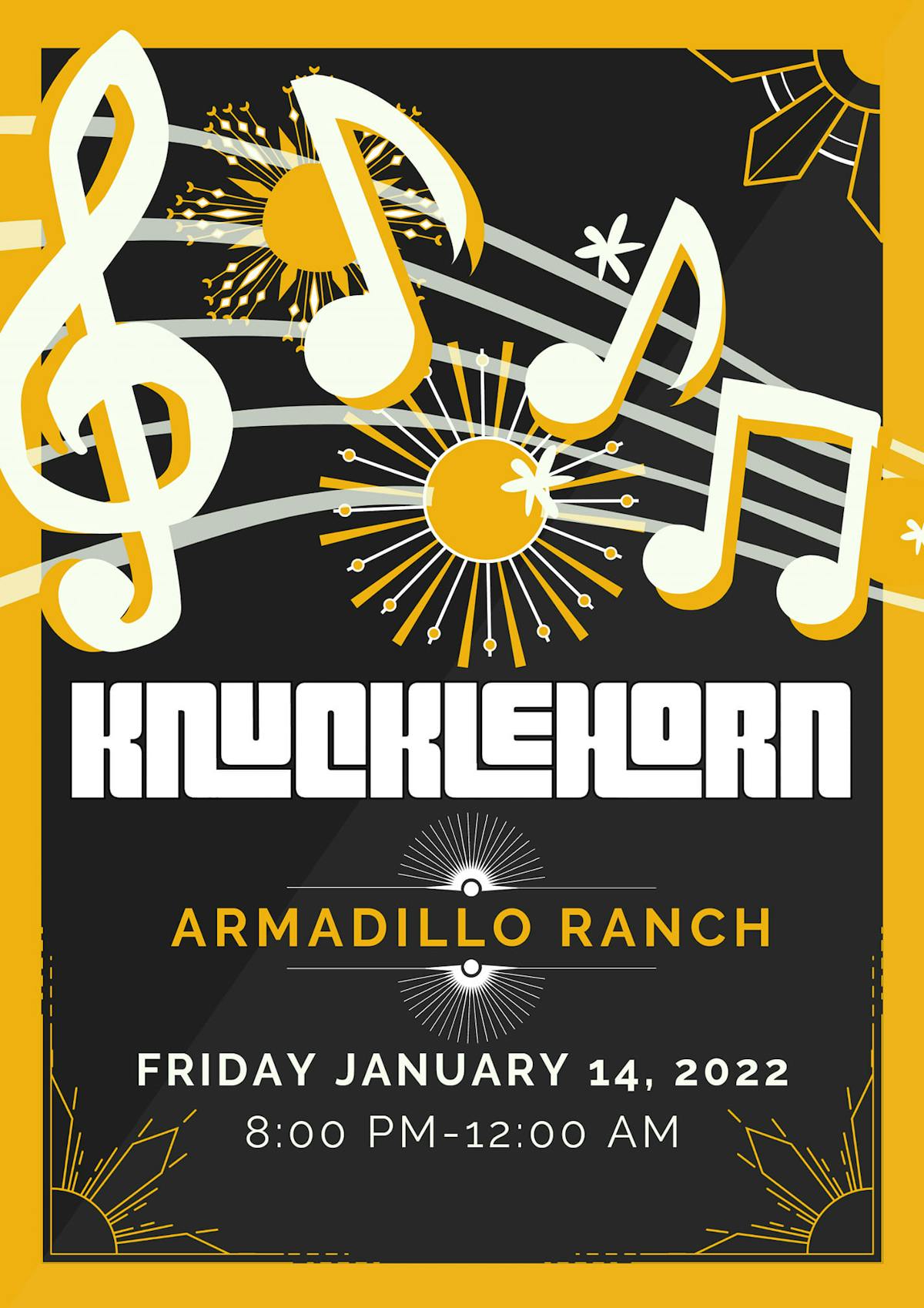 BACK AT ARMADILLO RANCH!!!
Knucklehorn is a talented jam band that plays high energy, danceable, rock-based jam music. Formed in Castle Rock, Colorado during the summer of 2018, Knucklehorn works tirelessly to blend the eclectic musical prowess of its members into a high energy and unforgettable musical experience for their fans. While Jack Patnoi and Jeremy Scott dig deep grooves on bass and drums, Mike Fairbairn and George Cottrell meld their guitar tones and melodic improvisations to create a dance party you won't soon forget. Influences range from Grateful Dead and Phish, to Johnny Cash, The Talking Heads, and James Brown. Knucklehorn can play your favorite covers, but this band really shines while playing inspiring original compositions, paying careful attention to the contributions from each member to create a unique and tasteful rendition each and every time.
At a Knucklehorn show, our rabid and improv-hungry fans, affectionately known as Knuckleheads, will dance to varying musical styles ranging from rock, funk, blues, bluegrass, and some reggae. At the heart of it all, Knucklehorn can jam! The band is inspired and fueled by the unknown possibilities of live improvisation. Listening to and playing off each member's ideas is the SOP for this band. Setlists are never the same, nor are the renditions of songs. Bring your dancing shoes. Wear your party pants. Get ready to jam with Knucklehorn!
#coloradomusic #coloradomusicscene
#coloradoband #coloradobands #livemusiccolorado
#thingstodoincolorado
#coloradogram #colorado #coloradoinstagram #coloradolife #coloradolive
#jamband #jambands #musiclive
#entertainment #coloradocreative #livemusic #coloradosprings